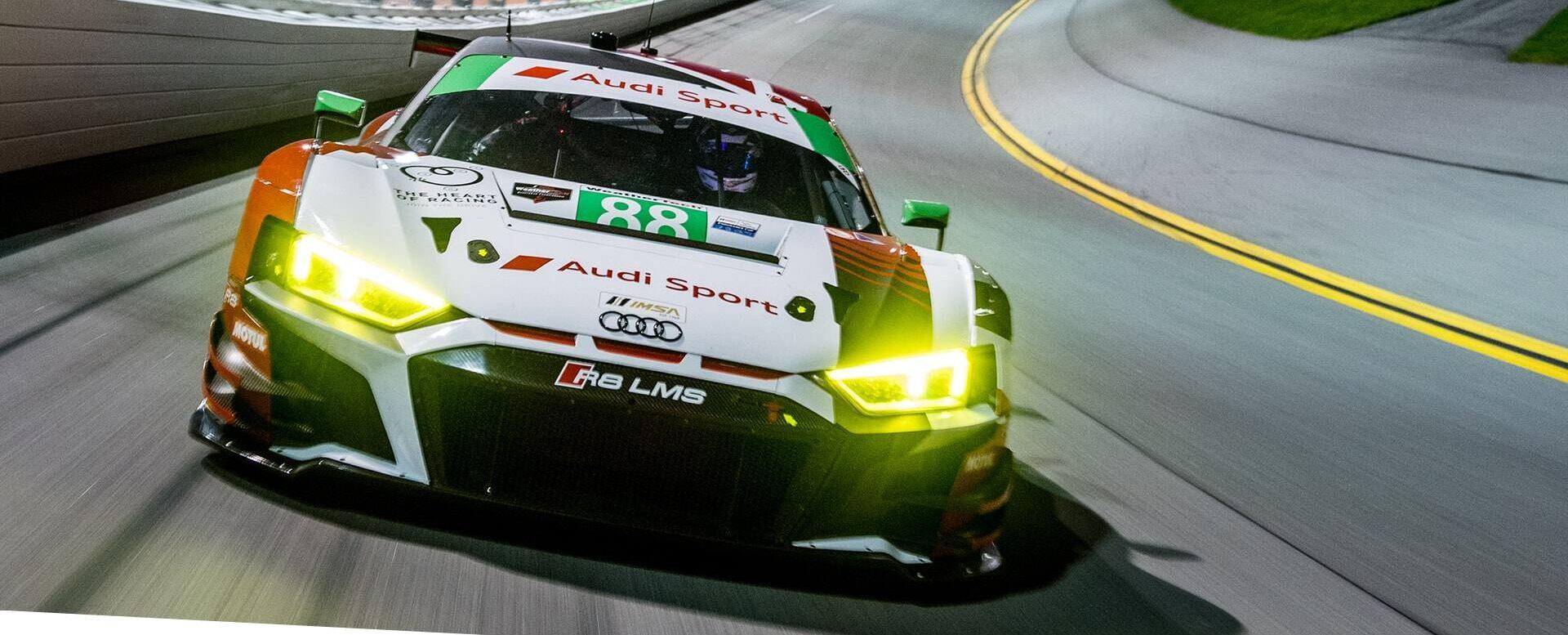 Born on the track. Built for the road.
The spirit of racing deserves to be unleashed, not confined to a track. Audi Sport combines our commitment to innovation, passion for motorsport and our high expectations. We strive for excellence, driven to achieve perfection. With our powerful TFSI engines, sporty styling and suspension tuning which will push every limit. We test our Audi Sport vehicles on the racetrack to make sure we have infused an authentic racing spirit into the car. Audi Sport consistently and completely sets the bar.
Welcome to the #LeagueofPerformance
Take the wheel
Silence the backseat drivers with an Audi Sport Vehicle.

Sound of Audi Sport
We turned the volume up of our cars. Now it's your turn.
Get intoxicated by the roar of Audi's RS models, with the burble of the TT RS's 5 cylinder engine, the seductive twin turbo in the RS6's V8 and the aspirated V10 in the R8. Be seen and heard.

Become a champion in the league they're raised in.
The Audi Sport customer racing Program gives you personal coaching from top Canadian drivers, and shows you what it takes to win as well as what it takes to compete. With a two-day licensed training course with hands-on experience, we'll help you develop the skills that will take you to the next level.
If you pass the training course, you can apply to the ASN Canada FIA for the Canadian regional race license. You must have Canadian citizenship to be eligible to apply for this license.
Package Includes
Two-Day experience
FIA Standard race regulation training and driving instruction
Driving experience in R8, TT RS and RS 3 LMS (FIA TCR regulated race car)
Two nights accommodation at Audi selected hotel
Audi premium hospitality with gourmet catering
Course Curriculum
Course handlinge
Lapping TT RS and R8 Coupe
Advanced lapping in the RS 3 LMS TCR
The Program
The program costs $15,000 plus applicable taxes
Dates to be announced at a later date at the Vancouver Island Motorsport Circuit
*Program costs include damage insurance but not the deductible. Should you crash and damage the RS3 TCR car you will be responsible for the insurance deductible.
Training schedule may vary due to driving conditions
Book a Test Drive
* Indicates a required field